Kimberly A. Milligan, PhD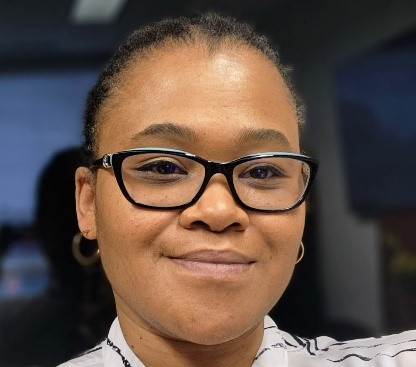 Visiting Assistant Professor
Department of Chemistry
Office: SCS Rm 326
Lab: SCS Rm 305
302.857.6534
kmilligan [at] desu.edu
Education
Triple Alumna of Delaware State University
Doctor of Philosophy (Ph.D) in Applied Chemistry
Master of Science (M.S.) in Biological Sciences
Bachelor of Science (B.S.) in Chemistry
Technical Skills
Thermal Analysis: Thermal Gravimetric Analysis (TGA), Differential Scanning Calorimetry (DSC)
Microscopy: Confocal Laser Scanning Microscopy (CLSM), Scanning Electron Microscopy (SEM), Transmission Electron Microscopy (TEM), Atomic Force Microscopy (AFM)
Spectroscopy: Nuclear Magnetic Resonance (NMR), Fourier Transform Infrared Spectrometry (FTIR), Inductively Coupled Plasma Atomic Emission and Mass Spectroscopy (ICP-AES & ICP/MS), X-Ray Diffraction (XRD), Liquid Chromatography- Mass Spectrometry (LC-MS)
Other Techniques: Polymerase Chain Reaction (PCR), Western Blot, Fluorescence-Activated Cell Sorting Cytometry (FACS)
Research Interests/Area
I have a broad range of scientific interests; including improving higher education and applications of research in teaching, as well as, biopolymers and surface modification of nanoscale systems for drug delivery applications.
Accreditation of DSU's Water Testing Laboratory
Through a collaborative effort with the Environmental Protection Agency (EPA) and Southern Utah University, Delaware State University strives to be only the 2nd University in the nation and the 1st HBCU to open a certified drinking water testing laboratory, in order to enhance research, teaching, outreach, career development and stewardship in environmental sciences. This Partnership will promote:
a seamless pipeline to bring environmentally and technologically capable candidates trained at Delaware State University to the workforce
increasing the number of minorities with careers in environmental science and related fields
an environmental stewardship ethic in students at all educational levels
Other Research Interests
Develop surface modified nanoparticle for the removal of heavy metals (i.e. lead/arsenic) from drinking water
Investigate chitosan (biopolymer) nanoparticles for the extended-release of oxytocin, which shows great potential in the treatment of neurological disorders.
Using Virtual Reality Classroom (VRC) to Enhance General Chemistry Teaching
This is an ongoing research project funded by Center for Teaching and Learning for 2018-2019.
The purpose is to improve the student learning and experiential participation by integrating the Virtual Reality Classroom (VR) technology in General Chemistry teaching.
Professional Memberships
Director of DSU's Drinking Water Analysis Laboratory
HHMI Faculty Institute (Summer 2018)
Faculty Mentor for HHMI Scholars (2018-2019)
Faculty Mentor for Teal Fellows (2018-2019)
INCLUDES and Renewable Energy Group Faculty Member
American Chemical Society (ACS) Member (2001-Present)
Delaware Sustainable Chemistry Alliance (DESCA) Member (March 2012- Present)
Publications
Milligan K, Winstead C, Smith J. Preparation and Physiochemical Characterization of Chitosan Nanoparticles for Controlled Delivery of Oxytocin. International Journal of Pharmaceutical Sciences and Research. April 2018.
Honors & Awards
Center for Teaching & Learning 13th Annual Mini Grant Award Recipient  "Using Virtual Reality Laboratory (VRL) to Enhance General Chemistry Teaching" (Spring 2018)
MSI-PWI Seed Grant Recipient - Biochemical Summer Undergraduate Research Experience Program (BioSURE) - Collaboration with faculty from University of Texas (RGV), SUNY, and University of California, MERCED (2018-2019) 
Center of Excellence for Student Success Volunteer Award (2017)
Teaching
| Institution | Course | Role | Year |
| --- | --- | --- | --- |
| DESU | General Chemistry 101/102 | Lecture/Lab | 2016-Pres. |
| DESU | Chemistry for Health | Lecture/Lab | 2008-2010 |
| DTCC | Nursing Chemistry | Lecture/Lab | 2007-2008 |
| Strawbridge HS | Earth and Environmental Science | Teacher | 2007-2008 |
| UD | Biology Laboratory | TA | 2006-2007 |
| DESU | Organic Chemistry | TA | 2004 |
| DESU | Genetics Laboratory | TA | 2003 |