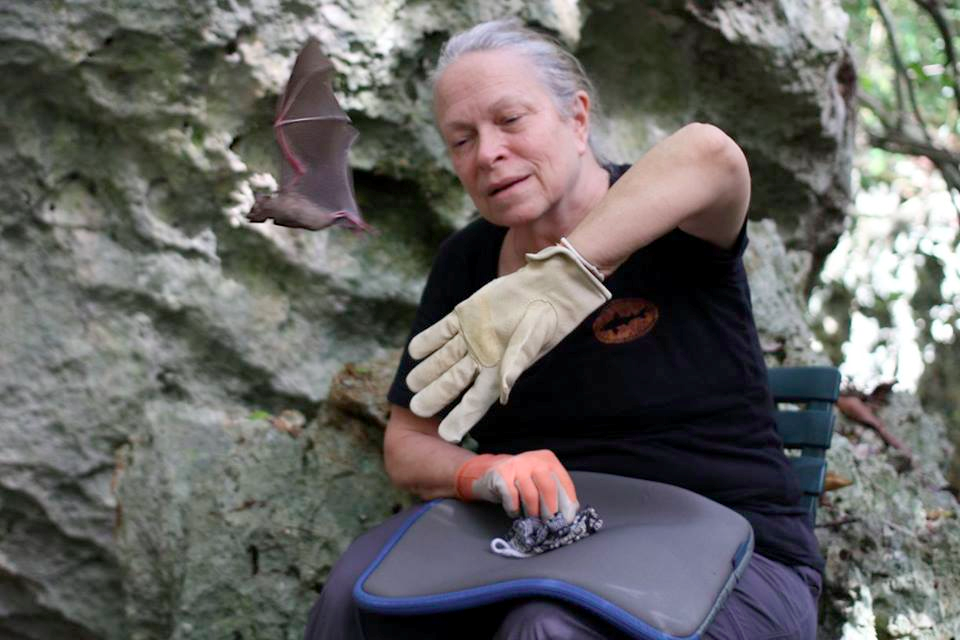 Professor
Department of Agriculture & Natural Resources
College of Agriculture, Science & Technology
Delaware State University
302.857.6457
kvulinec [at] desu.edu
Education
Ph.D. University of Florida, 1999
M.S. University of Chicago, 1993
M.S. University of Cincinnati, 1983
B.A. Kent State University, 1978
Research Interests/Area
Biodiversity conservation, anthropogenic change, and ecosystem function; Bat ecology in the US, Neotropics, and South Pacific, including habitat use, ecosystem services, and conservation; bats and wind turbines; bats and coastal habitats, bats and migration patterns; white-nose syndrome in North American bats; Tropical ecology; seed-dispersal communities in the Amazon; community structure, hunting, and environmental disturbance; the value of secondary forest for seed dispersers, reforestation using natural dispersal agents; conservation, ecology, and behavior of Neotropical primates and dung beetles.
Professional Memberships
Association of Tropical Biology and Conservation
Bat Conservation International
Coleopterists Society
Ecological Society of America
The Maryland-Delaware Chapter of the Wildlife Society
The Mid-Atlantic Chapter of the Ecological Society of America (Chair 2012-2013)
Publications (Selected; *Denotes student coauthor)
*Sturgis, B. E., K. Vulinec, and A. Aispuro. In press. Stable deuterium isotope analysis of Mid-Atlantic Eptesicus fuscus bats. Northeastern Naturalist.
Stanbrook, R., C. Raisin, K. Vulinec. 2017. Observations on the nidification behavior and seed dispersal efficacy of Copris nubilosus (Kohlmann, Cano, and Delgado)(Scarabaeinae:Coprini). The Coleopterists Bulletin 71:777-780.
Vulinec, K., *K. Swift, V. Balke, *L. Sweitzer, B. Sturgis, D. Powell. 2017. Buckyballs and bats: Trace evidence points to trophic interactions. Frontiers in Ecology and the Environment. http://onlinelibrary.wiley.com/doi/10.1002/fee.1467/full
Nichols, E., M. Uriarte, D. E. Bunker, J. N. C. Louzada, T. Larsen, F. Vaz de Mello, K. Vulinec, M. Favila, E. Slade, S. Naeem, and S. H. Spector. 2013. Trait-dependent response of dung beetle populations to tropical forest conversion at local and regional scales. Ecology 94: 180-189.
*Wolcott, K. A. and K. Vulinec. 2012. Bat activity at woodland/farmland interfaces in central Delaware. Northeastern Naturalist 19: 87-98.
*Massé, R, J. and K. Vulinec. 2010. Possible impact of multiflora rose on breeding bird diversity in riparian forest fragments of central Delaware. Northeastern Naturalist 17: 647–658.
Ferster, B. and K. Vulinec. 2010. Population size and conservation of the last remnants of the Eastern Regal Fritillary, Speyeria idalia idalia (Drury) [Lepidoptera: Nymphalidae]: implications for temperate grassland restoration. Journal of Insect Conservation 14: 31-42.
Stoner K. E., P. Riba-Hernández, K. Vulinec, and J. Lambert. 2007. The role of mammals in creating and modifying seedshadows in tropical forests and some possible consequences of their elimination. Special Section: The trickle down effects of hunting for plant regeneration in Neotropical forests. Biotropica 39: 316-327.
Stoner, K. E., K. Vulinec, S. J. Wright, and C. Peres. 2007. Hunting and plant community dynamics in tropical forests: a synthesis and future directions. Special Section: The trickle down effects of hunting for plant regeneration in Neotropical forests. Biotropica 39: 385-392.
Nichols, E., T. Larsen, S. Spector, A. Davis, F. Escobar, M. Favila, K. Vulinec. 2007. Global dung beetle response to tropical forest modification and fragmentation: A quantitative literature review and meta-analysis. Biological Conservation 137: 1-19. "Top-50 most cited articles" published in Biological Conservation 2007-2010.​​​​​​​
Vulinec, K., J. Lambert, and D. J. Mellow. 2006. Primate and dung beetle communities in secondary growth rainforests: Implications for conservation of seed dispersal systems. International Journal of Primatology 27: 855-879.​​​​​​​
Vulinec, K. 2002. Dung beetle communities and seed dispersal in primary forest and disturbed land in Amazonia. Biotropica 34: 297-309.
Honors & Awards
Fulbright Scholar Alumni Ambassador appointment 2016-2018
US Fish and Wildlife Service Faculty Fellowship to Puerto Rico, 2014
Fulbright Faculty Scholar to Brazil, 2011 "Seed-Dispersing Bats in Fragmented Tropical Rainforest; Nocturnal Wildlife Technology Workshops for Students."
Faculty Excellence Award for Teaching, Delaware State University, 2008
Teaching
Mammalogy
Ornithology
Wildlife and Fisheries Management
Advanced Wildlife Biology (Undergraduate/Graduate)
Tropical Agriculture, Ecosystems, and Conservation (includes Field course in Neotropics)
Experimental Design (Graduate)
Conservation and Restoration Ecology (Graduate)
General Ecology