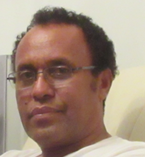 Associate Professor
Chemistry Department
College of Agriculture, Science & Technology
Delaware State University
302.857.6545
bworkie [at] desu.edu 
Education
Postdoctoral Research Associate, Texas A&M University, College Station, TX  (09/1996 -08/1997)
Ph. D.   Analytical Chemistry, Tufts University, Medford, MA (1996)
M.S.  Chemistry, Tufts University, Medford, MA (1993)
M. S.  Chemistry, Addis Ababa University, Addis Ababa, Ethiopia (1986)
B.S.  Chemistry, Addis Ababa University, Addis Ababa, Ethiopia (1982)
Teaching
CHEM. 305 Analytical Chemistry
CHEM. 306 Instrumental Analysis
CHEM. 507 Molecular Spectroscopy
CHEM. 630 Electroanalytical Chemistry
 Research Interests
My research interests lie in the area of electrochemistry; in particular, electrochemical reductive grafting of diazonium gold (III) salts that may have application in organometallic electrode preparation, grafting polymers, energy storage, and nanoscale patterning; and electrodeposition of alloys and metals that have importance in corrosion protection and catalysis.
Professional Memberships
American Chemical Society (ACS)
Society for Electroanalytical Chemistry (SEAC)
Selected Recent Publications
"Synthesis of Gold Organometallics at the Nanoscale", A.  Mohamed, S. Neal, B. Atallah, N. AlBab,  H. Alawadhi, Hanan  Abdou, B. Workie, E. Sahle-Demessie, C. Han,  M. Monge, J. Lopez-De-Luzuriaga, J. Reibenspies, and M. Chehimi, J. Organomet. Chem., 2018, 877, 1-11.
"Gold-carbon nanoparticles mediated delivery of BSA: Remarkable robustness and hemocompatibility", M. Hammed, I. Ahmady, H. Awadhi, B. Workie, E. Sahle-Demessie, C. Han, M. M. Chehimi, and A. A. Mohamed, Colloids Surf. A Physicochem. Eng. Asp., 2018, 558, 351-358.
"Photothermal Mirror Method for the Study of Thermal Diffusivity and Thermo-Elastic Properties of  Opaque Solid Materials" A. Marcano, G. Gwanmesia, and B. Workie, Int. J. Thermophys., 2017, 38, 1-11.
"Gold-organic Thin Films from the Reductive Grafting of Diazonium Gold(III) salts", S. Neal, B. Workie, B. McCandless, and A.  Mohamed, Journal of Electroanal. Chem, 2015, 757, 73-79. 
"Electrophoretic Deposition of Aluminum Nitride from its Suspension in Acetylacetone using Iodine as an Additive", B. Workie, B. E. McCandless, and Z. Gebeyehu, Journal of Chemistry, 2013, 2013, 1- 7.